BUSINESS-CAREER BREAKTHROUGH SOLUTIONS
Experience An Exclusive Life-Transforming Interaction
with 'Sakshi' Narendra
Warm welcome to the World of Infinite Energy to Unleash your Full Potential and become Unique You.
We all wish to have health, wealth, happiness and harmony in our lives but the fact remains that even after so much advancement in science, Happiness still remains a distant dream. Majority of the people don't have their life goal or life purpose aligned with the Cosmic Plan. Of the ones that have their life goals, only few channelize their energy to achieve them. Ignorance of right life goals coupled with lack of motivation; results into unfulfillment of dreams causing Energy Imbalances. This Energy Imbalance results into stress, anxiety, tension, dissatisfaction at home and workplace of an individual. We are in a state where we are neither fully satisfied with our material world, nor have harmonious balance between the material and the spiritual world. As this Energy Imbalance varies from Individual to Individual, a customized approach for Energy Alignment is the need of the hour.
Our Personal 1-1 Transformational Programmes for effective Personal, Relationship & Business holistic goals help those wanting to live their Best Life with Great Riches & Everlasting Happiness. It involves:
Understanding of LIFE PURPOSE
Knowing the UNIQUE ELEMENT you are born with
Realizing the Energy LEAKAGES in your life
Conservation, Transformation and UPWARD MOVEMENT of Life Energy to Life Goals through Meditation and Love
Maintaining a Harmonious BALANCE between Material and Spiritual World
HAVE A LIFE PROBLEM? REQUIRE A SOLUTION??
SIDDH SANKALPSHAKTI KRIYA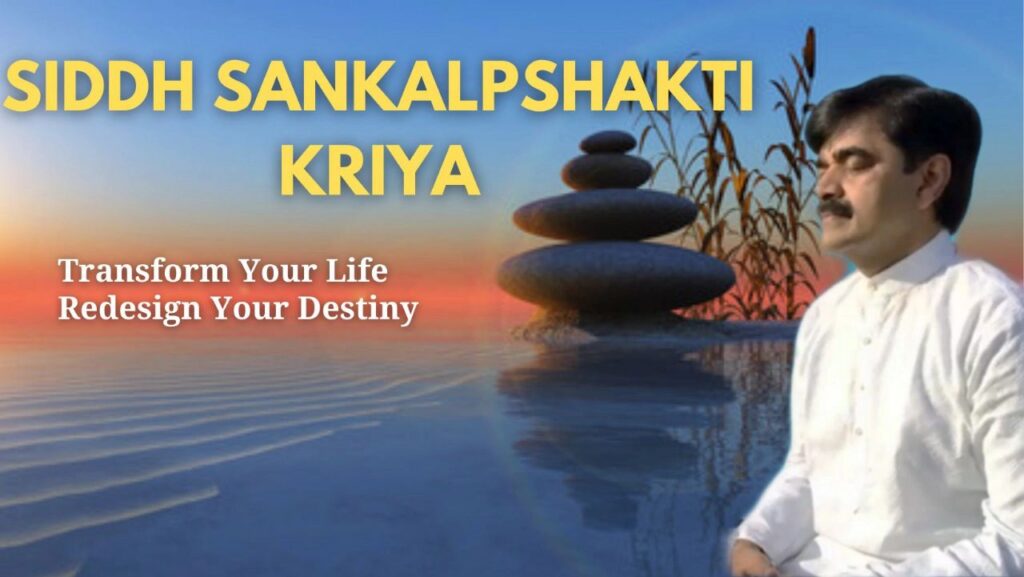 Every child is born pure with complete consciousness as a Soul. As his age increases, the first time he says 'No' to his parents, he starts considering himself as an 'Individual' and 'Covers' that consciousness with mind patterns, beliefs and tendencies which he gathers from family, friends and the society. The fundamental key of Energy Alignment is to align the individual Energy of five elements of the body viz. Earth, Water, Air, Fire, and Sky through the Mystic Vision with the Life Purpose so as to live Life's purpose joyfully, prosperously and with maximum impact.
When such an individual gets in touch with the Realized Master with Awakened Energy who is connected with the Infinite – the Divine Universal consciousness by way of Complete Surrender (i.e. of Negativity, of the Ego and the thoughts of the Past and the Future) and is in the state of 'Thoughtlessness', He acts as a Mirror to that individual. He then becomes a 'Flute' in the hands of the Universe and the universal consciousness uses that Divine Soul as a guiding light for others through many blessings via Clairvoyance, Mystic Vision, Telepathy, Extra sensory Perceptions. Once mind becomes absolutely Still, Intelligence transcends human limitations.
The process of Energy Alignment involves one time Energy Rectification process based on Mystical Vision, Observations seen through meditation by Energy Exchange. Thereafter, Energy Enhancement is suggested as per customized quote.
PEOPLE'S VOICE
Dandavat Pranam. We are blessed to have your grace and blessings with us always. You are our rock-solid support all times. Our prayers with folded hands to be with us. read more
Thank you thank you thank you Guruji for making our birth successful. By only causeless grace we can meet Guru.Thank you for bringing us closer to you by knowledge and faith, Thank you for making us realise mistakes and ignorances of endless lifetimes. Thank you for helping us dispose thoughts of pride, ownership and doership… read more
Namaskara a thousand times again and again. Your blessings have transformed our life to a brighter path. away from darkness. Thank you Thank you Thank you Sir for all your Guidance, Support, Enlightenment and Energy.
Thanks a lot… for giving me everything so many blessings and all other things. Thanks a lot sir!!! Blessed to have you sir
There will be no darkness in my life as there is the ray of light of your blessings and teaching. I am really grateful to have you in my life is the best version (the version of guru). read more
Sir, With ur blessings following are the positives of the day…. Happiness: Talking to sir today was energizing. He infused amazing positivity and direction to my thoughts. Such eye opening facts of life unfold by talking to him. Changing out fundamentals and correcting our myths about living a happy life. Am truly grateful for his… read more
To, Mystic Vision Sir, I dedicate this poem to you on the occasion of Gurupurnima as a small gesture. COMPILED ALTRUISM Another day completes, and I write to him. The shower of blessings, he pours within. A prophet you can say, divine till brim. Just an inch of faith and reliance fom the light to… read more
With ur blessings Got 100 in Electrical Engineering Exam. Mechanical Engineering Exam went good. Thanku thanku thanku. read more
Adarnia Sirji, Aap ki param kripa aur urja se niche likhe kam past month hueaa After 1.5/2 months production started with continuous orders. Workers attended with good service. Ashokji now comes in good health. Harishbhai coming daily with good thoughts and service. Daughter appeared in exam with u blessings and energy. Thanku thanku thanku. Aap… read more
"And the wedding happened.. It goes like we were searching for groom for my sister and after we met 2-3 boys, we liked one of them and both the parties agreed for the relationship but somehow things did not worked out.. After consulting Mr. Narendra Agrawal he asked us to wait for the time to… read more
Saadar pranam Agarwal ji,You were introduced to us by Dhruv's teacher and since then with your divine blessings and wishes, Dhruv has been set on a path of progress-not only in studies but there is a tremendous improvement in his behaviour and attitude towards everything. With your divine blessings Dhruv's relationship with me has also… read more
PranamShri Narendrabhai Agrawal,my friend,philosopher,guide & guru.What a fantastic journey it has been under his Spiritual guidance since the past three years.Ever since I have come in touch with Narendrabhai,my entire life & thought process have changed positively.It is really miraculous how he analysis's my problems & provides me with a solution immediately by just giving… read more